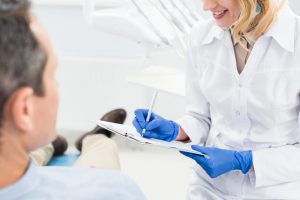 Maintaining your oral health by visiting the dentist regularly or at the first sign of a dental issue is important. However, some patients feel fear or anxiety at the thought of a dental appointment, which hinders them from receiving the care that they need. Oral sedation can alleviate apprehension prior to a dental appointment. Although oral sedation is a viable option for most patients, some medical conditions will affect what type of sedation is best for them or indicate that they should not use oral sedation at all. Call our team at our Fresno, CA dental office today at 559-297-1294 to learn more about oral sedation and set up an appointment to determine if you are a suitable candidate.
What Is Oral Sedation?
Oral sedation involves using nitrous oxide or anti-anxiety medication to make a patient feel more relaxed during a dental appointment. Administered through a nose mask, the patient will inhale the nitrous oxide gas, also known as laughing gas. Nitrous oxide inhibits nerves from sensing pain and diminishes the patients worries while he or she will still have full control of movement.  Oral sedatives, such as Valium or Halcion, will be prescribed by Dr. Denes with specific instructions as to when and how to take them. Oral sedatives work similar to nitrous oxide, making a patient feel at ease.
When Is Oral Sedation Used?
For patients who have dental fear or anxiety associated with going to the dentist, oral sedation can help them rest the night prior to their appointment and meet their appointment time the next day. For lengthy procedures, oral sedation can help a patient remain comfortable in the chair.
If you experience the following conditions, you might benefit from oral sedation:
Difficulty relaxing before and during dental appointments
Difficulty sitting in a chair for a prolonged time
Have a sensitive gag reflect
Have a low pain tolerance
Depending on the treatment that you need and your medical history, Dr. Denes might recommend nitrous oxide, oral sedatives, or a different route if oral sedation will conflict with other medications or your medical conditions.
Health Conditions to Consider
Because every patient's oral and overall health is different, Dr. Denes will evaluate each case individually. Dr. Denes' priority is patient safety. Patients for whom Dr. Denes will first consult with their physician to decide if oral sedation is a safe option include the following:
Women who are pregnant or nursing.

Anti-anxiety medication can potentially be passed on to the fetus or through breast milk.

Patients taking medications for depression, anxiety, or other mental health

Oral sedatives may potentially interfere or react with these medications.

Patients who have:

Kidney or liver disease
Glaucoma or myasthenia gravis
Congestive heart failure
Diabetes
High blood pressure

Some blood pressure medications have side effects on oral health, such as dry mouth or gum tissue growth problems.
Being honest with Dr. Denes when discussing medical history ensures your safety and health. If oral sedation is not a good option because of your medical conditions, Dr. Denes may be able to help by recommending breathing exercises, cognitive behavioral therapy, and other methods to handle stress and anxiety.
Using safe sedation dentistry, Dr. Denes can help you take care of your oral health. Call (559) 297-1800 to schedule a consultation at our Fresno, CA dental office to discuss with Dr. Denes whether oral sedation dentistry is an option for you.
Share on Facebook