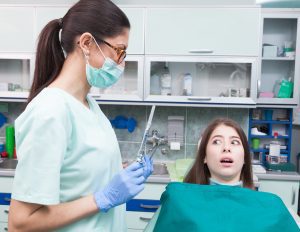 For many, the word "dentist" creates a heightened level of anxiety and fear when mentioned, often resulting in a faster heart rate, nervous stomach, and cold sweat. It is not uncommon for this particular person to experience these same side effects when driving by a nearby dental office or seeing a medical professional in a white coat or scrubs. This particular condition actually has a name: dental anxiety.
If any of these symptoms describe you, you are not alone. It is estimated that about 30 to 40 million people experience dental anxiety or phobia of some type. For many, this condition prevents individuals from visiting the dentists for routine checkups due to an intense and unreasonable fear. Even if an oral health condition is causing them pain, they would rather live with that pain, or numb it with medication, than face their fears of going to the dentist.
At Fresno Dental Studio, we are committed to helping our patients have a relaxing and comfortable dental visit. Call our Fresno, CA, office today at (559) 297-1294 to learn about our sedation dentistry options.
Common Causes of Dental Anxiety
It's hard to know what causes dental anxiety and phobia. It can vary from patient to patient, but is often related to undergoing a past, painful experience, or hearing about someone else's traumatic experience. For patients 25 years or older who have dental anxiety linked to a fear of pain – this is typically due to a prior dental experience that involved a restorative procedure, such as a dental filling. In the early days of dentistry, there were fewer sedation options available, and some people have difficulty numbing with just local anesthetic. So once the painful experience occurred, they view all dental experiences as cause for pain.
Other causes can include embarrassment and fear of being out of control. Patients who have bad breath, poor oral health, or acne are uncomfortable with a hygienist and dentist being in close proximity, working inches away from their face. For other patients, sitting in a chair with their mouth open, unable to see what's going on causes feelings of being out of control.
How to Overcome the Fear
No matter the cause of your dental anxiety, we understand that it's a real issue and can prevent you from receiving the help you need. So how do you overcome your dental anxiety? One of the first things you can do is find a dentist who you can trust and makes you feel at ease. Talk to your friends and neighbors about who they go to and read reviews online. When you find one you're interested in, schedule a consultation where you can speak to him or her about your concerns. This is strictly an introduction and you do not have to undergo any type of dental treatments when visiting.
Speaking with a dentist about your fears and what caused those fears allows him or her to create a treatment plan unique to your needs. This may include providing you with oral sedation in advance of your appointment to help calm your nerves, in addition to using nitrous oxide.
Other recommendations can include:
Listening to music or watching a movie with headphones to tune out the sound of dental equipment
Using a stress ball
Trying meditation and other relaxation techniques before and throughout the appointment
Seeking professional help from a psychologist
Schedule Your Consultation
If you are interested in meeting with Dr. Denes about the different sedation methods we provide – please contact our office today online or by calling (559) 297-1294 to schedule your initial consultation. He is committed to helping you overcome your fear of the dentist so you can receive vital dental care.
Share on Facebook