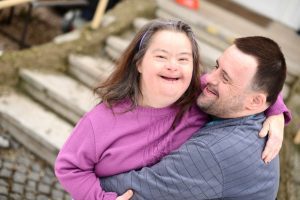 Finding a great dentist can be challenging enough on its own. Finding a dentist who takes the time to understand a special needs patient can be downright frustrating. A lot of dental practices deal in bulk and want to get patients in and out of their appointments as quickly as possible. If you care for an individual with special needs, you know not everyone fits into that equation.
Some people require extra time and considerations to feel comfortable getting the care they need. At Fresno Dental Studio, we welcome patients who don't fit into an easily definable box. We know that every individual has unique needs, and everyone deserves a positive experience at the dentist.
If you are a caregiver or family member of a special needs individual who's had bad experiences at the dentist, give us a call. We would love the opportunity to show you that compassion can make a big difference. Call us at 559-297-1294 to meet Dr. Claudia Denes.
What We Can Do
Whether you have a medical, physical, or psychological condition, we will take the time to get to know you before we initiate treatment. We will not make assumptions and we will listen. We hate to see anyone forgo the care they need because they've had bad experiences in the past, so we are always willing to hear about your history as a patient.
This helps us provide appropriate care in a setting that is less likely to trigger anxiety, panic, or physical discomfort. We will also offer sedation, when appropriate, as this can make the whole experience easier for the patient.
Gentle Sedation Options
When dental anxiety and special needs cross paths, the results can make for unsuccessful appointments. Even patients who can communicate their needs have trouble verbalizing their feelings about dental fear and anxiety. This can be a major obstacle for patients from every walk of life. If you have a condition that limits your ability to communicate your needs, you may find dental appointments especially confusing or frustrating. Sedation allows the patient the luxury of relaxing, so fear is less of a factor.
For many cases, we recommend gentle oral sedation both before and during the appointment. This usually involves a mild sedative that does not render the patient unconscious. Oral sedation consists of mild antianxiety medication that is similar to the types of drugs prescribed to patients with a fear of flying or a panic disorder. The medication allows the patient to feel more relaxed without affecting cognitive function, and without lasting effects.
Dr. Denes will usually prescribe two doses of the medication: one for the night before, and one for just before the appointment. The "night-before" dose lets the patient get a full night's rest and feel calm in the morning. If there have been bad experiences in the past, this can prevent anxiety from building before the appointment. The second dose is taken immediately before the appointment, to ensure a less stressful experience.
During the appointment we will take it slow, to make sure the patient feels comfortable and relaxed. We welcome caregivers and guardians to stay in the room and support the patient, if needed, and we are always flexible in how we accomplish the goals of the visit.
If someone you know could benefit from an appointment with a special needs dentist, call Dr. Denes at 559-297-1294 to schedule a consultation. We look forward to answering any questions you might have about oral sedation and special needs patients.