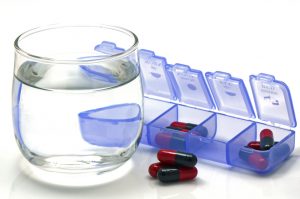 Temporomandibular joint (TMJ) disorder causes excruciating pain in jaw joints, which connect the upper and lower jawbone to either side of the skull. This disorder often results in upper body stiffness (such as in the neck and shoulders), frequent migraines and headaches, as well as overwhelming discomfort when opening the mouth. Fresno, CA dentist Dr. Claudia Denes uses big dentistry to correct the misalignment that leads to TMJ disorder. Other dental issues, such as chipped, broken, or missing teeth are repaired during full mouth reconstruction. Through a series of dental procedures, she returns the function and appearance of your smile, boosting your confidence and oral health along the way.
At Fresno Dental Studio, we use oral sedation to calm the nerves of anxious patients. If you suffer from dental fear or dental anxiety, call 559-297-1294 today to learn more about oral sedation and big dentistry with Dr. Denes.
What is Big Dentistry?
The term big dentistry is used to condense the procedures that collectively make up full mouth reconstruction. If you've found yourself in need of an entirely new smile, Dr. Denes will recommend multiple procedures to properly restore oral function and the aesthetics of your smile. To begin this lengthy procedure, Dr. Denes will examine your periodontal (gum) health. Strong, pink gums are needed in order to fully support your upcoming dental work. If your gums and jawbone are unhealthy, Dr. Denes will recommend the appropriate restorative treatment. In cases where teeth are missing, she can provide dental implants and an implant-supported restoration.
Next, she will examine your occlusion (bite). Jaw misalignment results in TMJ disorder. It can also lead to worn teeth and a decrease in oral function. From a cosmetic perspective, misalignment can erode tooth enamel, causing teeth to appear shorter, even unhealthier, than the rest. Most important, occlusion must be fixed in order to maintain the benefits of your big dentistry procedures. A misaligned bite will cancel out all dental work; therefore Dr. Denes will make sure that this step is performed before moving onto cosmetically enhancing your smile.
Possible cosmetic procedures may include:
Porcelain veneers
Porcelain crowns
Dental bonding
Teeth whitening treatment
When it comes to cosmetic treatments, Dr. Denes will recommend possible procedures, but ultimately it's your decision. At this time, Dr. Denes encourages her patients to reflect on the features of their smile that they're unhappy with. If your smile isn't as pearly white as you want, teeth whitening treatment effectively enhances your smile by multiple shades. Sometimes a tooth doesn't accept whitening, in which case a porcelain veneer is permanently bonded over the flawed tooth to create an entirely new surface.
Oral Sedation and Big Dentistry
Patients with dental fear often experience apprehension when it comes to undergoing dental procedures. In severe cases, a patient may live with overwhelming jaw pain, in efforts to avoid visiting the dentist. At Fresno Dental Studio, these patients are offered oral sedation to calm their nerves. Dr. Denes prescribes sedative medication that is taken the night before procedures, as well as an hour before. The nighttime dose is used to calm anxious patients so that they can get a good night's rest before their big dentistry appointment. The dose that is taken roughly an hour before the visit is used to comfort patients during their procedures.
Dr. Denes creates a detailed phased treatment plan for each patient. She will break up the appropriate procedures into multiple visits, which allows patients ample recovery time, as well as the option for payment plans.
Want to learn more about big dentistry procedures? Call 559-297-1294 to schedule an appointment with Dr. Denes in Fresno, CA. Don't forget to ask about how oral sedation will comfort you through your full mouth reconstruction.
Share on Facebook