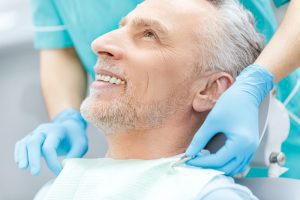 Daily care, such as brushing and flossing, and biannual visits to the dentist are equally important parts of maintaining good dental health. Additionally, when you have issues such as tenderness or pain in your gums or teeth, you should schedule an appointment with your trusted dentist as soon as possible.
Although many people understand the importance of oral health, some people avoid the dentist due to fear or anxiety. Additionally, people who have specific needs and might be differently abled might have stayed away from the dentist's office for these reasons. Some people find that preventive care and dental examinations cause their gag reflex to make them want to throw up.
For patients who require specific care and consideration at the dentist's office, we can help with sedation dentistry at our Fresno Dental Studio in CA.
Alleviating Fear and Anxiety
Dental fear and anxiety affect people in a variety of ways. Although they are similar conditions, they are distinctly different in that dental fear can be compared to a phobia that hinders a person's abilities, while dental anxiety affects a patient's situational wellbeing.
Have you ever:
Stayed up all night prior to the day of a dental appointment?
Felt your heart pounding and started sweating while in the dental office waiting room?
Canceled appointments repeatedly because you couldn't bear the thought of going to the dentist?
If your response is "yes" to any of the above, you might benefit from oral conscious sedation. Oral sedation at Fresno Dental Studio includes anti-anxiety medication or nitrous oxide to help ease the apprehension and worries associated with visiting the dentist.
Your medical history, preferences, and the procedures you need will help determine which type of sedation will work best for you.
Accommodating Our Patients Who Have Special Needs
Special needs in clinical terms encompasses medical, mental, and psychological categories. We understand the importance of individualized treatment and service for those who need it.
At Fresno Dental Studio, we work to help you and your loved ones take charge of dental health to maximize teeth function and lead an enjoyable life. If you or someone you love has Alzheimer's disease, Down syndrome, or other health conditions that require special care, such as spinal cord injuries that make it difficult to sit in a dentist's chair, we offer oral sedation to help make receiving dental treatment more comfortable.
Sedation Dentistry in Fresno, CA
Our oral sedation options include nitrous oxide and prescription anti-anxiety medication. Both methods work to ease nervousness and help the patient relax while receiving dental treatment. Sedation can help a patient remain comfortable for multiple procedures, lessening the number of necessary appointments.
Nitrous Oxide
Administered through a face mask, nitrous oxide calms a patient and reduces ability to sense pain. Once the face mask is off, the effects of the nitrous oxide wear off quickly, and a patient returns to normal.
Oral Sedatives
If anti-anxiety medication most suits a patient's needs, Dr. Denes will prescribe the oral sedative prior to an appointment. It is important to follow instructions as to how and when to take the medication. The medication induces relaxation in a patient, who will need transportation to and from the appointment, as the effects last longer than with nitrous oxide.
We are ready to help you take control of your oral health. Contact us at our Fresno, CA office to learn more about sedation dentistry or schedule an appointment.
Share on Facebook